Who is this guide for?
System Supervisors
Osprey has its own report writer which can be used to generate custom reports on your Osprey site.
Please note that you must have administration rights on your local network to download and install the Report Writer. If you do not have these rights, please contact your network administrator. Your Osprey user must be set up using the Supervisor access template in order to be able to log in to the Report Writer. Training will also be required.
To begin the download, select the following link:
https://apps.ospreyapproach.com/products/tools/ReportDesigner/ReportDesigner.zip
Once selected, depending on your browser you will see a message box similar to the below:

Click Open, then double click the Report Designer folder.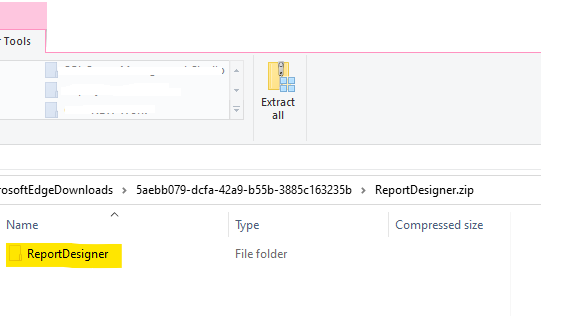 Double click the Setup or Setup.exe file and follow the on-screen instructions to install the Report Writer.

Once installed, the Report Writer will be available on your computer. The icon is shown below. You can search for the application in the bottom left hand corner search box, or select it from the Programs menu.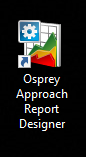 Be aware that the .NET Framework 4 will need to be installed on your computer to enable you to use the Report Writer. When installing the software for the first time, you will be prompted to download it if this is not found. Please note that this is simply a Microsoft update and can be downloaded from their website should the prompt not appear. If any assistance is required, please contact your network administrator.
You can now select the icon to open the Report Writer.
When using the Report Writer for the first time, you will be prompted to enter the URL for your Osprey database. For example https://pracctice.ospreyapproach.com/main.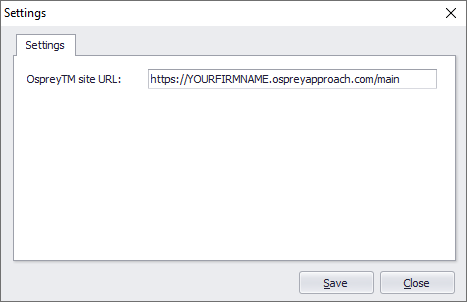 Once entered, you must supply your Osprey username and password. In order to log in your user name must be set up to use the Supervisor access template.

Select 'Login' to access the Report Writer and begin creating your reports. If any assistance is required in terms of creating and editing reports, please contact our Support team on 03300 604 940.