Troubleshooting Osprey Gateway
Updated Sep 20th, 2023
The Osprey Gateway sits between Osprey and Microsoft Office, communicating information between the two programs.
General Troubleshooting
Check the program is running – The Osprey Gateway will automatically check for any updates when the user logs in, then automatically starts as a background process.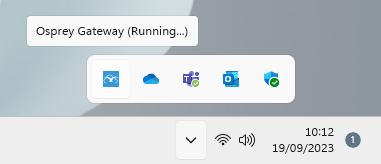 Start the Gateway Program – To start the gateway, go to Start Menu > All Apps. Locate and run the Osprey Gateway.
If you were already logged into Osprey, you may have to log out and back.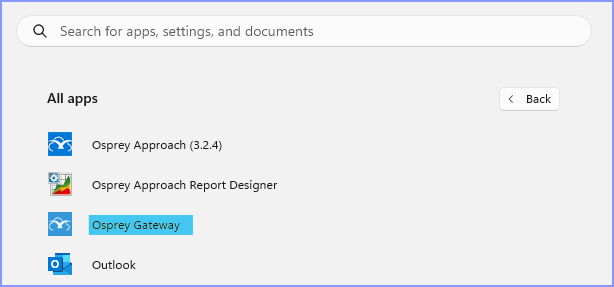 Failing to Install/Uninstall
If trying to uninstall the gateway produces an error (or when reinstalling) the most common issue is the ClickOnce deployment tool cache.
Deleting this may require any ClickOnce applications to be reinstalled.
To clear the ClickOnce cache
1 . Delete %LocalAppData%\Apps\2.0 folder (Take a backup of the folder first) – this folder location will be dependant on Windows Version
2. Uninstall the Gateway. The above command deletes all the ClickOnce cache files, which is used to install and run the Gateway App.
3. Reinstall the Gateway. https://apps.ospreyapproach.com/gateway/rdc/setup.exe
Multiple PCs
If working with multiple PC and the Remote Desktop version of the Osprey Gateway, users must log out of the Gateway before logging into another machine.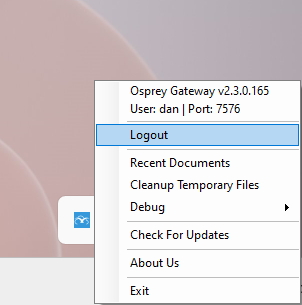 Failing to do so will result in "Osprey Gateway could not be found" warning.