Who is this guide for?
Any Users
The Global search allows you to search for clients and matters in your database.
We have also produced a short video if you prefer to watch these steps.
The Global search searches all areas of Osprey with no requirement for a wildcard to be entered and returns all matches. For example to search for Mitzi Broom you can search for either Mitzi or Broom. Should you know the client number you may enter this instead.

Once you have entered your search details in the Global search box and clicked the magnifying glass icon to perform your search, you can further filter the results found, as well as amending the layout of the columns.
To turn on the filter row, click the column chooser icon, and tick the Show Filter Row box:

When the filter row is turned on, you can search for additional values within each column of your search results:

In the top right of the search results screen, you can clear any grid filters you have added by clicking the Clear Grid Filters icon:

To change the columns that are displayed in the Global search, click the Configure Grid icon, and tick / untick the columns that you want to show/hide: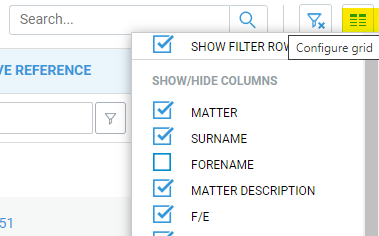 To reorder columns in the display, simply click and drag the column heading you want to move, and drag it to the required position:

You can also resize columns to fit:

To select a matter, simply click one of the columns of data for the relevant matter.
Clicking any client information will take you to the Client Details page
Clicking any matter information will take you to the Matter Details page
If you have enabled the WIP Balance column, clicking this will take you to the Time Recording page.
If you have enabled the Client Balance column, clicking this will take you to the client ledger.
You can also export your results to Excel/CSV using the Export button in the top left hand corner: