Who is this guide for?
Any Users
Osprey will sometimes bring up pop-ups. Sometimes your browser might block these, but it is possible to always allow these pop-ups.
Depending on the browser you're using, there are be several different places to allow pop ups for Osprey.
Internet Explorer
For Internet Explorer, you can either change your pop-up settings in the browser window or by going through the Internet Properties area.
To go through Internet Properties, hold down the Windows key on the keyboard and select the 'R' key to bring up the 'Run' box. Enter inetcpl.cpl as shown here.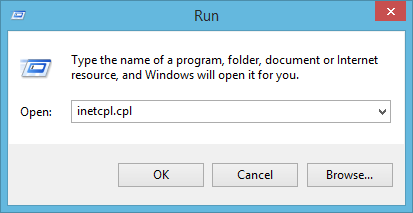 And then select 'OK' to bring up your 'Internet Properties' panel. On the 'Privacy' tab will be a 'Pop-Up Blocker' area.

Ensure that the 'Turn on Pop-Up Blocker' box is checked and then click on the 'Settings' button to open up the 'Pop-Up Exceptions' panel.
Enter *.ospreyapproach.com in the 'Address of Website' box and then click the 'Allow' button to add it to the 'Managed Websites' area. Now repeat the process to add *..ospreyapproachbackup.com shown here: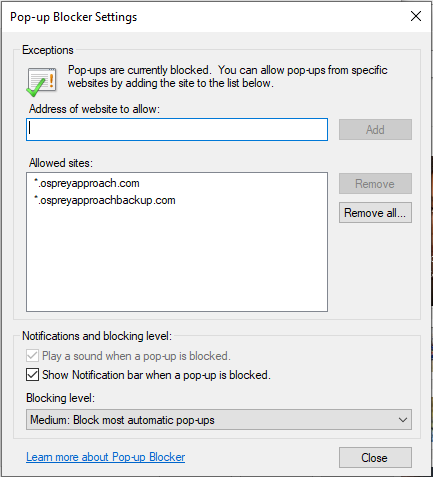 Select 'Close' to return to your Internet Properties box. If the 'Apply' button in the bottom right is clickable, select this and then click 'OK'. If 'Apply' is greyed out, then simply click 'OK'.
Firefox
If you are using Firefox, click the menu button on the top right of your browser window.

Now select the 'Options' button to bring up a side panel.
On the Content menu, click the Exceptions button alongside Pop Ups.
In the Address of Web Site box, enter https://.*ospreyapproach.com and click 'Allow'. This will appear in the box. Then enter https://.*ospreyapproachbackup.com and click 'Allow' again. Click 'Save Changes'.
Google Chrome
If you are using Google Chrome, click the menu button in the top right corner and select the 'Settings' option from the drop-down list.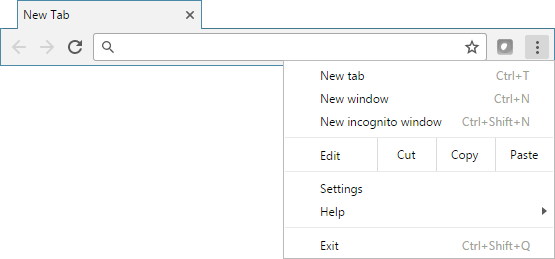 When the settings area opens, scroll to the bottom and click 'Advanced Settings'. You will now see a 'Privacy' area.
Click the 'Content Settings' button, then scroll down to the pop-up section.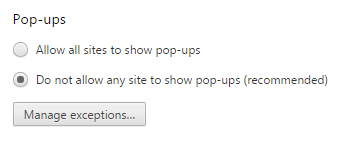 Click 'Manage Exceptions', and type in [*.]ospreyapproach.com and click the Enter key on your keyboard. Then type in [*.]ospreyapproachbackup.com and, again, press the Enter key.
Select the 'Finished' button to complete the process.