February product updates and enhancements
Updated Feb 13th, 2023
Feb '23 Release Notes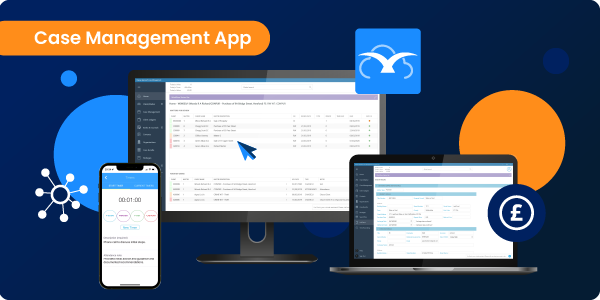 Case Management App – v3.1.0 & Web Browser – v1.32
This release further helps to align the Osprey browser and Case Management App features to deliver a more seamless experience for all law firms. This release also addresses some feedback given by our clients to ensure features and functionality meet users' needs as expected.
You'll find fixes, updates, and enhancements across accounts, case management, document production, and supervisor features to help improve efficiencies across your teams.
Focus on apps announcement
As part of the project to create a centralised and powerful Osprey app, the individual focused apps, time recording, and cheque requisition apps will no longer receive updates. Our aim is to provide fewer, higher quality products that offer you all the features and functionality you need. This means your firm should upgrade to V3.00.1 (or later) of the Osprey Approach Case Management App to reap the full benefits.
Check if you have the latest version by visiting the Microsoft app store here.
In the Case Management App & browser you'll now find:
Document Management & Production
Multiple documents
You can now open multiple Word documents from your local PC whilst working on an Osprey document.
Formulas
Formulas now copy across in documents when using the 'Add current document' feature.
Bundle folders custom order
Bundle folders can now be manually reorganised to create a custom order.
Documents with the same name
Documents can be saved with the same name as long as they are linked to different work types.
Case management
Marked as prospects by default
When the configuration switch is set to true, all new clients and matters will be added as a prospect by default.
Prospect files
Prospect files can now only be made live when the 'go live' button is selected.

Matter description character length
The matter description character length no longer causes problems when trying to print time and client ledger cards.
Key date sync
This release fixes the issues some accounts were receiving when trying to sync key dates with Outlook.
Signature requests
The signature request folder now appears at the top of the folder panel in the matter history to improve visibility of what's outstanding.

Change email sender default
The default sender can now be changed and set in Supervisor settings to determine who is sending emails from Osprey.

Sending a package
When sending a package via Osprey email the firm name is now auto-populated to speed up the process.

In the Case Management App you'll now find:
Case Management
UFN now available
UFN is now linked to Franchise Types CRI and CIV so UFN options now appear when selecting the Franchise Type.
Lexis Smart Forms in workflows
Lexis forms will only run in workflows when the specified criteria is met.
Archive location and reference
Archive Location and Archive Reference is now correctly labelled when searching for a client and matter and they're also visible in the matter details screen at the bottom.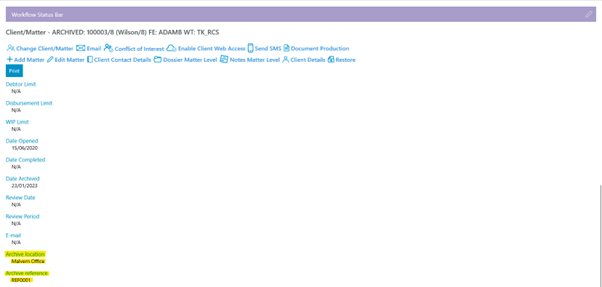 'Matters for review' permissions
This release fixed the error users were experiencing when trying to access a matter from the 'Matters for review' screen. Users will only get the message 'You do not have permission to access the matter' if the user does not have access to the matter.
Additional client forename
Additional client forenames are now visible.
Loqate integration now available
The Loqate integration functionality can be now used within the app to complete addresses in dossier fields, client addresses, contacts and organisations.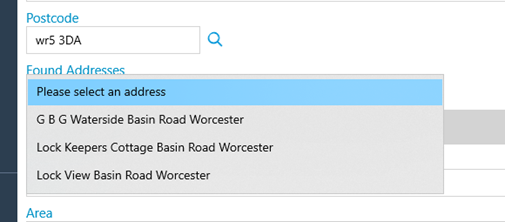 Document Management & Production
Document ownership is no longer case sensitive
Document ownership had previously been case sensitive, which had prevented some users from being able to delete documents. Document ownership is no longer case sensitive.
Retain position when editing a document
When returning to the document list in the Supervisor area – when previewing or editing a document – the filters and search results that had previously been defined are now retained to help you continue where you left off.
Document name
The document name is now visible on the fields page in Supervisor settings when working on a document, so it's clear what document is being worked on.

In the Browser you'll now find:
CRM611 autosave
To help with the CRM611 submission, spreadsheets now retain the last sheet that was viewed before closing the document to ensure it's the correct sheet when you need to upload it to reduce failed submissions.
Period end fees analysis
The period end fees analysis report no longer has errors and displays the information as expected.
Print within view details
You can now easily print the matter or client record information.
Deleting documents
This release fixed the issue that meant documents were deleted even when the 'cancel' option was selected.
Approving requisitions
Within Banks & Journals > Requisitions, the client ledger now shows the client's forename and surname when approving requisitions.
Report viewer
The report viewer now opens in a wider window by default for better visibility.
For more information & support
If you need more information or support on the new updates, please contact our support team who will be happy to help. Submit a support ticket, or call us on 0330 060 4940.