Osprey Credits
Updated Sep 25th, 2023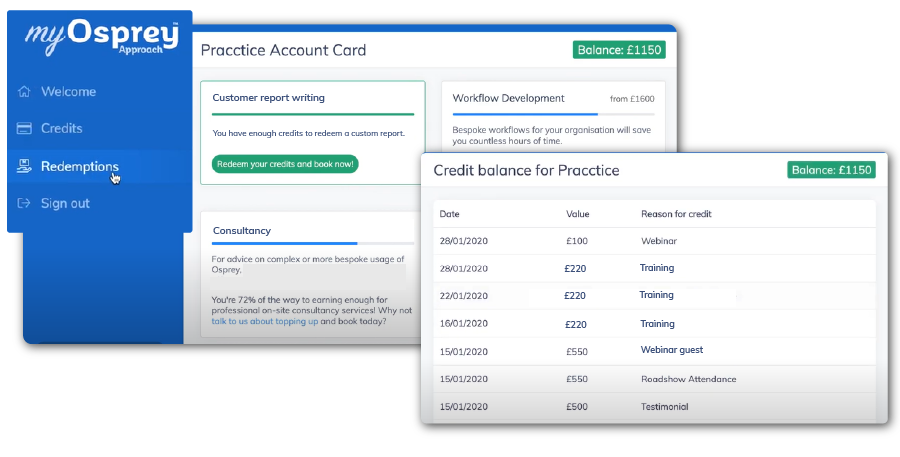 The more you use Osprey, the more you get out of it.
The Osprey credit scheme rewards active Osprey users with credits that can be redeemed for professional services. By completing training courses and being an active member of the Osprey community you'll instantly earn credits on your account. Redeem your credits for a range of professionals services that'll enhance your use of Osprey.
View your existing credits and redeem services today.
Earn credits for being part of the Osprey community
| | |
| --- | --- |
| Complete online training course (must complete quiz) | £220 |
| Complete advanced online course (must complete quiz) | £550 |
| Provide assistance to our marketing team | £150 – £550 |
| Join us in creating a webinar or content piece | £200 |
Redeem your credits for a range of professional services

Workflow Development
Bespoke workflows for your organisations will save you hours of time and money.

Custom Report Writing
Bespoke and custom reports for more complex data analysis. Gain full visibility of your firm's performance to make daily management easier.

Process Consultancy
Gain advice and best practices on complex or bespoke usage of Osprey from our product experts.

Data Migration
We can assist with the import of data into Osprey for example, oaths, deeds, CRM data and more.
How to use your credits
You'll need to contact support to use your credits.
If you require additional professional services, please contact the support team so we can gather the information needed to provide a quotation. The quote will outline the total cost, and if you have any available credits, they will be taken off the total cost.
Terms and Conditions
Credits must be used within the term of a contract. Credits cannot be converted into cashback or cash discount equivalent for license fee services. Credits cannot be redeemed against on-site visits. Credits cannot be redeemed against licence fees or bespoke development work or any other services not listed above. Credits cannot be transferred from firm to firm. Credits must be used with in the terms of current agreement. Credits not used in term of current agreement will be cancelled. Pracctice Limited reserves the right to vary, amend or withdraw the incentive scheme at their discretion.