Who is this guide for?
Any Users
If you are exporting emails from Outlook into Osprey using the OspreyTM connector, it is possible to easily identify which emails you have already exported by adding an extra column to Outlook.
The Osprey connector can show which client and matter(s) you have exported an email to when you turn on a custom field.
Right-click on the heading row in your inbox on any of the column headings 'From', 'Subject', 'Received', etc. Then click on 'Field Chooser'.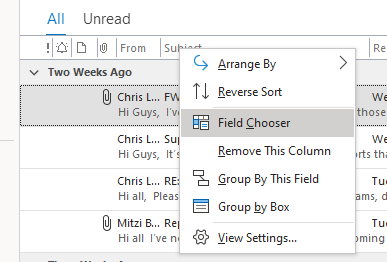 Select 'User-Defined Fields in Inbox' from the drop-down list at the top.
Drag the 'Exported To OspreyTM' field to the position in which you would like it to appear. Any subsequently exported emails will now appear.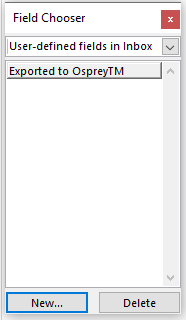 And you will now see that the new column brings through the client and matter number to which the email was exported.

To add the column to a folder other than the Inbox, you need to create a new user defined field with the same name of 'Exported to OspreyTM'. If this custom field is deleted from Outlook (in the screen above, you can choose to delete fields), all associated export data will also be deleted.