Reports: Aged Debtors
Updated Jun 18th, 2021
Who is this guide for?
Accounts Users and Accounts Supervisors
This report lists clients/matters with a Debit balance, ageing the balance according to the period in which the bill was posted.

Filter options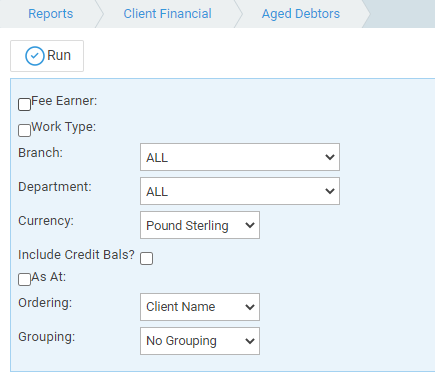 Fee Earner – Select one or more Fee Earner
Worktype – Select one or more Worktype
Branch – Report on All branches or a particular branch
Department – Report on All departments or a particular department
Currency – Select the Currency type you wish to report on
Include Credit Balances – This option enables you to report on all non-zero balances, including credit balances. When you select this option the total on the Aged Debtors report should equal the Debtors figure for Year to Date on the Trial Balance for the current period
As At – Select this option and enter the date you wish to run the report at, you can select a retrospective date
Ordering – Select either Client Name or Client Number
Grouping – Options of No Grouping, Fee Earner or Work type. A new page is started for each Fee Earner or Work type and subtotals are given per grouping
List of Columns produced
Client/matter number
Client name
Matter Description
Fee Earner
Work type
Balance (this is the overall balance on the matter)
Bill Date (this is the date of the most recent outstanding bill on the matter)
The following columns give the aged analysis of the debt
Credit balance. This displays any credit balances when this filter option is selected
MisAl. This column displays 'Yes' when there is a problem with the allocations on the matter, meaning that the sum of the ageing columns does not match the Balance on the ledger. The ledger should be cleared and reallocated to rectify this.