Who is this guide for?
Case Workers and Case Management Supervisors
Osprey Approach offers integration with Lexis Nexis, allowing you to run their library of legal forms through Osprey. To use these, a Supervisor level user will need to add the relevant forms into Osprey.
Please note that you must have an account with Lexis Nexis and will require Adobe Reader to be set as your default PDF viewer to view the forms.
Please note that the appearance of the entries in the Lexis Forms list are governed by Lexis Nexis and NOT Osprey Approach. As an example, Law Society forms will always be prefixed by the letters LS and Land Registry forms will always be prefixed by the letters LR. The following guide will assist
The following guide will show you how to search the PDF document available HERE to locate the forms easily.
Select the 'Supervisor' tab. Then select 'Case Management Setup' followed by 'Standard Documents' and click 'Lexis Forms Config' as shown below.
The Lexis Forms drop-down list contains all forms available from Lexis Nexis. The form IDs are present, however many of them are prefaced with initials which denote the originator of the forms (Land Registry, Law Society, etc).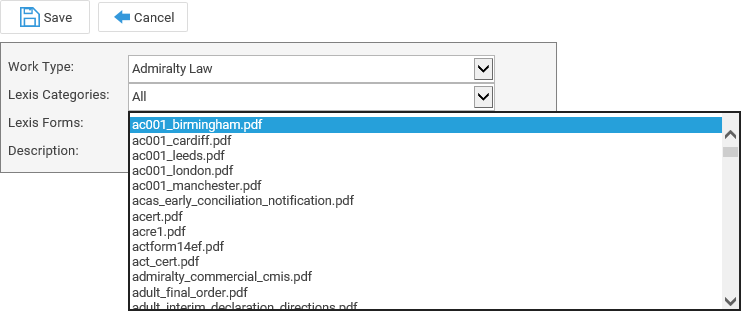 To open the Find panel, whilst this document is open in front of you, hold down the CTRL key on your keyboard and press F to bring up the Find window.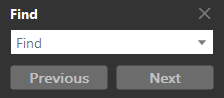 Enter the ID of the form you wish to search for. In this example, we will search for the Law Society form CON29DW – Drainage & Water Searches.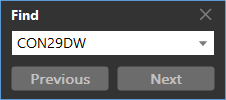 Now click the Return key on your keyboard or the Next button. The Find function will now search the available text for any matches. Once found, they will be highlighted as below.

From this, we can see that the CON29 DW form is available and is prefixed with LS, so we now know where we can find our form in the list.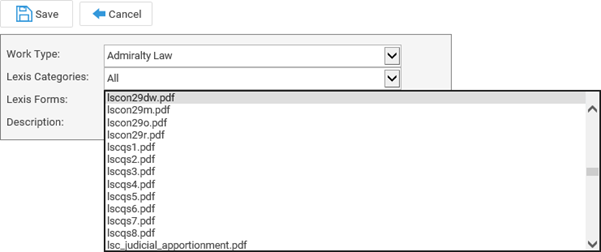 The full list of forms is present on the downloadable PDF available to download by clicking HERE. Using the Find function as described previously will assist you in locating the relevant Lexis form.