Professional Services Process/Procedure
Updated Oct 4th, 2023
Who is this guide for?
System Supervisors
You have the option with Osprey to request professional services as an added extra, this can include the creation of documents, workflows and even reports etc. Should this be required this will guide you through the process and our procedure for organising the work to be completed:
Requesting Professional Services
Should you require us to provide professional services such as creation of your standard documents, a workflows or a bespoke report on Osprey you may request this by getting in touch by email or calling our support department. You will need to provide accurate details of what is required and will be required to fill in our professional services form.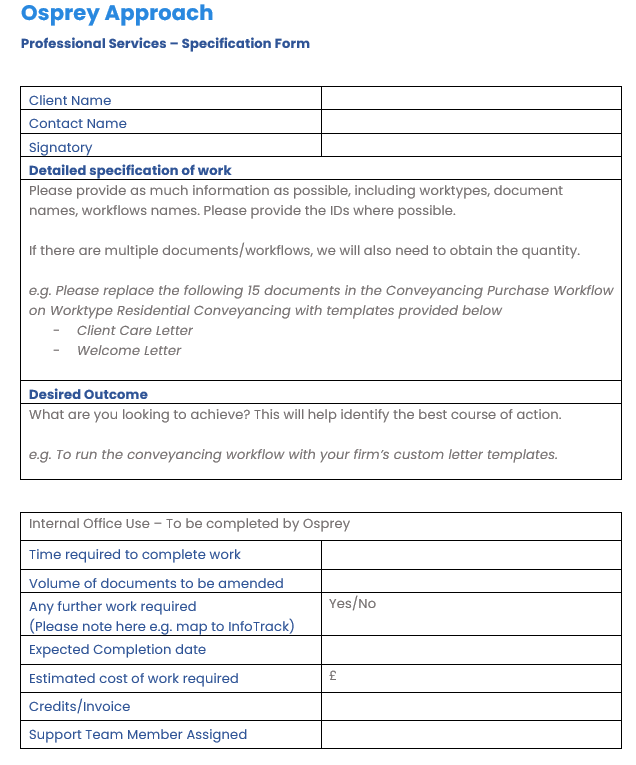 If you would like to fill this in prior to any conversations you may download a copy here:
Quotation
Once the professional services form has been completed and returned we will assess the work and time required to complete and provide you with a quotation. If you have Osprey credits you may use some or all of these to pay towards cost.
Scheduling
Upon receipt of the signed quotation has been received and payment has been agreed we will schedule in the work to be completed in line with our resources availability. You will be informed on this so you have a clear understanding of when this will be complete.
Completion/Sign Off
Once the work has been completed a meeting will be arranged with yourselves to go through and sign off the completion.