Reports: Client Funds Movement
Updated Jun 22nd, 2021
Who is this guide for?
Accounts Users and Accounts Supervisors
This reports on the total movement of client funds (monies posted into the client column of the ledger card) by client/matter per period over the time range selected given the filters applied.

Filter Options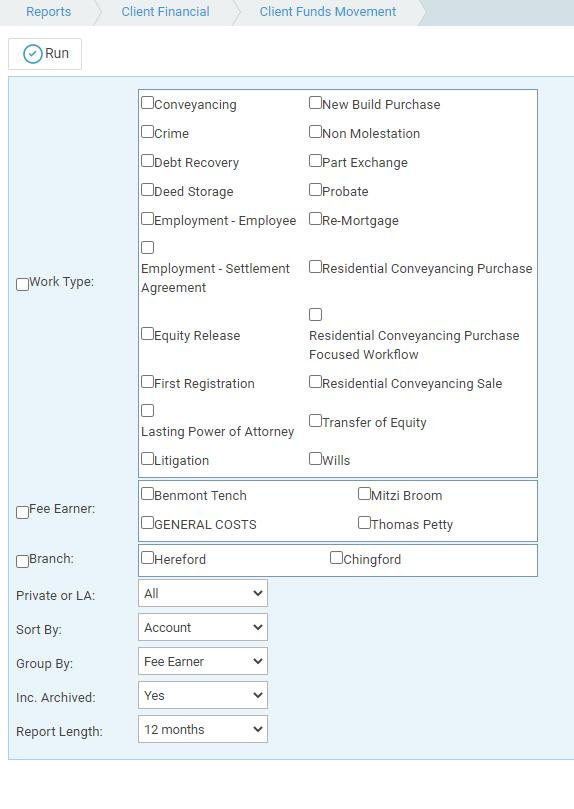 Work Type – Select work type(s) to view, or leave blank for all.
Fee Earner – Select fee earner(s) to view, or leave blank for all.
Branch – Select branch(s) to view, or leave blank for all.
Private or LA – Select options of Private/Legal Aid/All.
Sort By – Choose Account to sort by client number or Name to sort by client surname.
Group By – Choose between Fee Earner or Work Type grouping.
Inc. Archived – Leave as Yes to include archived matters or select No to exclude archives.
Report Length – Select one of 3, 6, 9 or 12 months. Example above is 3 months.
List of Columns produced
Client No/Matter No
Name
First Posting – shows the first posting date within the period selected in the Report Length.
Year/Period numbers, most recent first (output depends on which period you are currently in, and how long a Report Length you chose). e.g. If you are currently in period 6, and you chose a 3 month report, the report would show periods 6, 5 and 4.
Last Posting – shows the most recent posting date on the ledger.