Smart Actions: Matter History Notes
Updated Dec 13th, 2022
Who is this guide for?
Accounts Supervisors, Case Management Supervisors and System Supervisors
You can import text note entries into the matter history for numerous files at the same time using the Matter History Note function of Smart Actions. This can save time where a large group of matters needs a note to be entered, for example to note that you have just chased for payment of an invoice.
Option 1: Manual entry
Select 'Smart Actions' from the side bar and then click on 'Matter History Note'.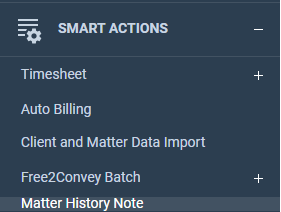 You now have two options. The first is to select 'New' and then enter the details of your Matter History note in the grid

Tick the rows to save, or tick the top box to select all and then select 'Save'.

Option 2: Import CSV
The second option is to click 'Download Template' and then select 'Open'.

Now enter the details in the spreadsheet and save the sheet in .csv format

In Osprey select Import CSV. Now locate the saved file and select 'Open'. As with the previous method, you can tick the rows to save, or tick the top box to select all. Once finished, click 'Save'.