May '23 Release Notes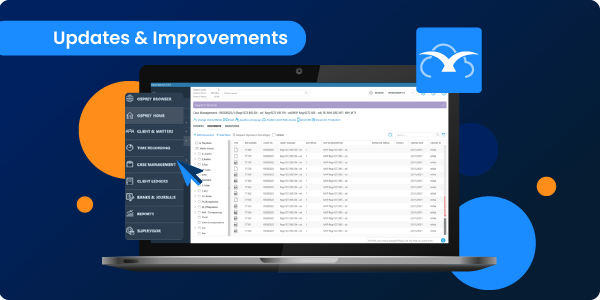 Web Browser – v1.33.0
Following client feedback, we've improved and enhanced various case management functionality to improve the overall experience.
The improvements include:
Custom reports permissions
A user's permissions now restrict their access to custom reports. Only users with the right permissions at report-level can run the report. Users without report-level permission will receive an error if they attempt to run the report.
Supervisor users continue to have full access to all reports.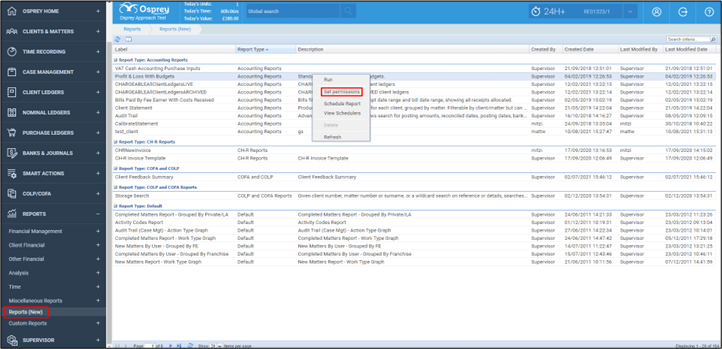 Improved data integration with InfoTrack
Formulae can now be mapped to InfoTrack integration fields to avoid data duplication in workflows.
Printing conflict of interest search results
The conflict of interest report now launches and prints as expected.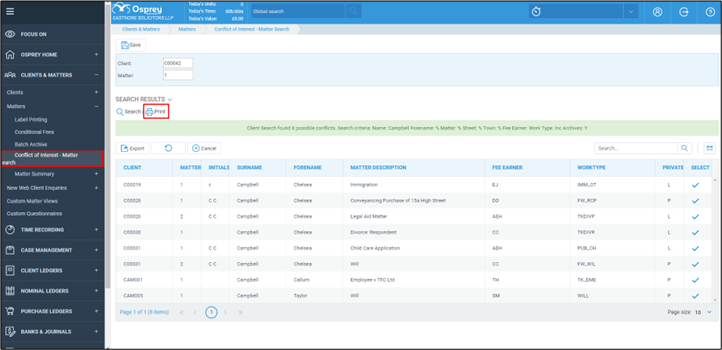 Load speed times have been significantly reduced when opening a dossier containing organisation fields for both the Browser and Case Management app.
Time recording write offs
The time recording write off report now displays the date the time recording post was written off rather than the posting date.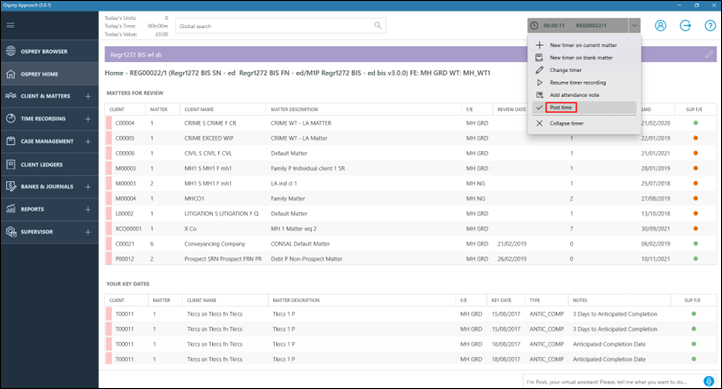 Case Management App – v3.2.0
All attachments in emails exported to Osprey can now be viewed from the matter history. The attachments tab now has a scroll bar to enable full visibility of all documents associated with that email.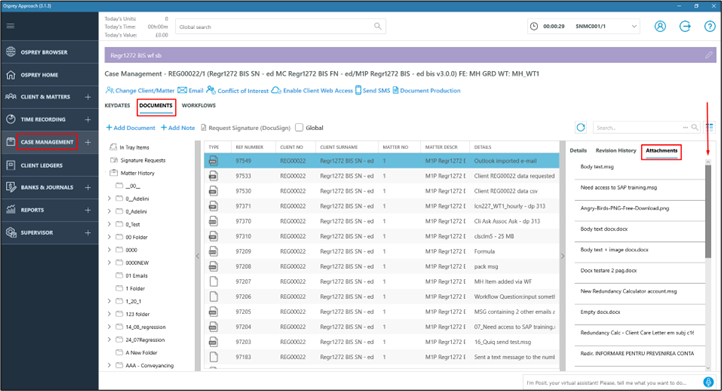 Requisitions and prospect matters
You can no longer post requisitions to prospect matters.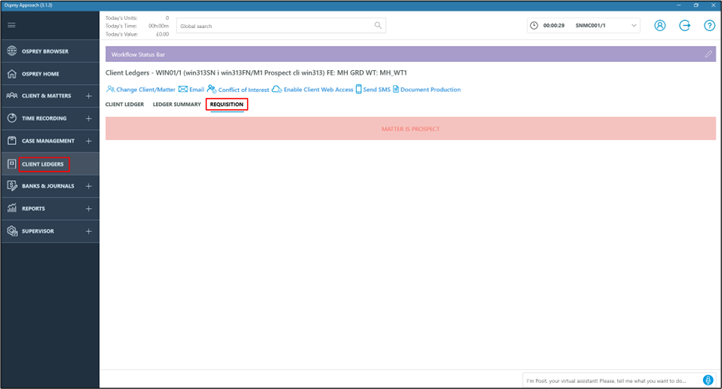 Cheque requisitions posting types
All cheque requisition posting types available in the browser are now also accessible in the Case Management app.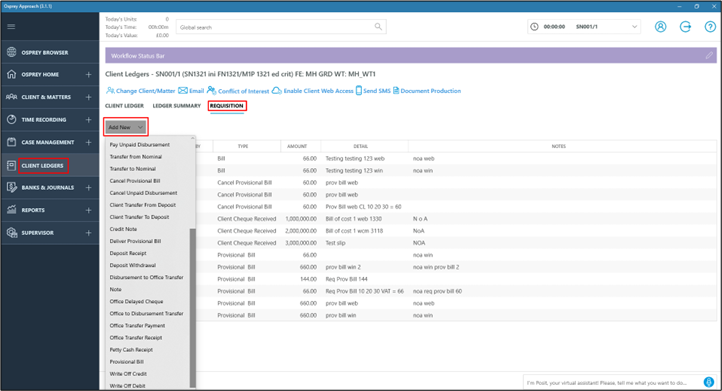 The general file system functionality is now available in the app. You can access this by expanding the 'Osprey Home' menu item in the left hand side bar. From here, you can access your general and internal documents and folders. Easily view the file type, reference number, retention period, details, created date, and created by information on screen.
Simply upload documents, view, check-out, and download as you can in the Browser.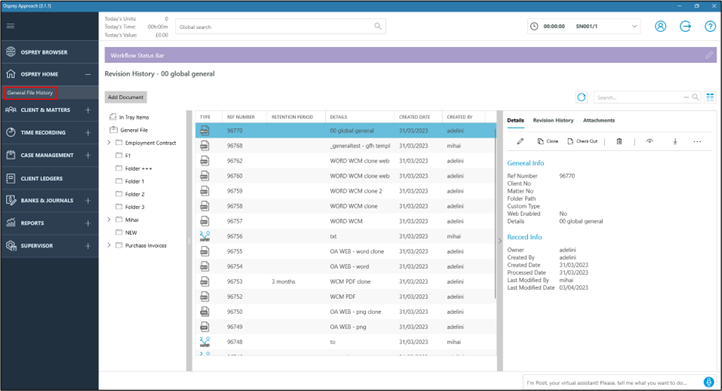 Custom client ledger views
Custom client ledger views are now also applied when using the app.
You can view these settings in the Supervisor area in System setup > Users > 'right-click' Edit the user > Navigate to client ledgers > Client ledger in Osprey Approach App for Windows.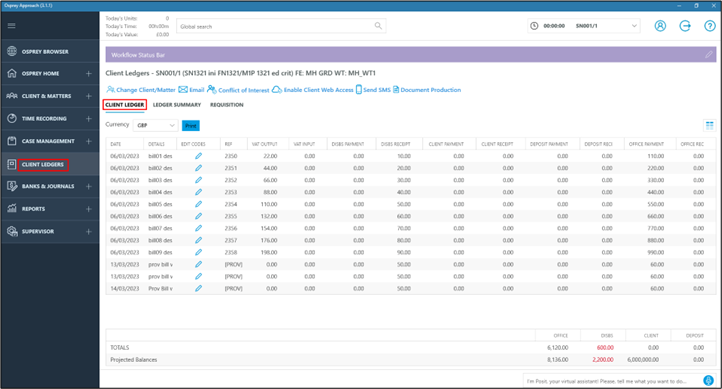 Search and matter history scrolling position
After previewing an email, the scrolling position of your search results or matter history now remains the same as it was when you clicked preview. The position of the list will no longer return to the top, avoiding the need for repeated scrolling.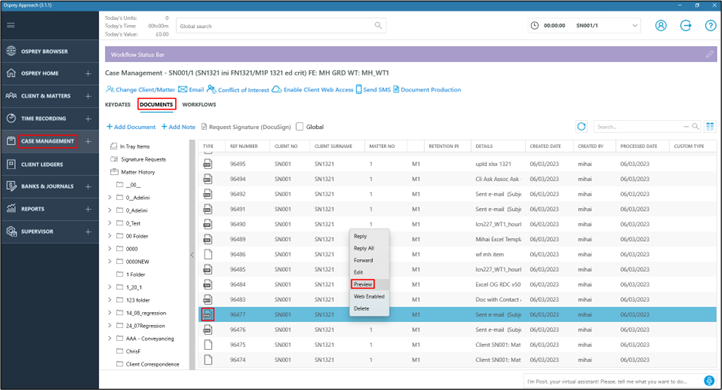 Improved data integration with InfoTrack
Formulae can now be mapped to InfoTrack integration fields to avoid data duplication in workflows.
Osprey Gateway Windows Remote Desktop Connection – v2.2
If you tick the 'Remember me' box on the login screen of the Gateway, your credentials will be automatically populated the next time you go to login.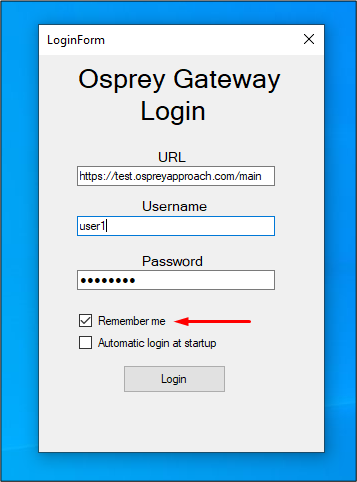 If the 'Automatic login at startup' box is ticked, you'll automatically be logged in when the application is restarted. This box can only be activated once the 'Remember me' box is ticked.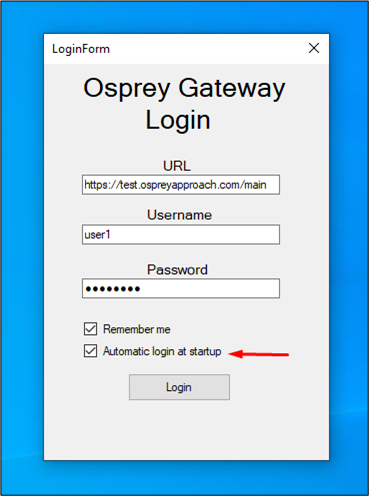 For more information & support
If you need more information or support on the new updates, please contact our support team who will be happy to help. Submit a support ticket, or call us on 0330 060 4940.