Improve case management efficiencies with enhanced app features
Updated Nov 28th, 2022
Nov '22 Release Notes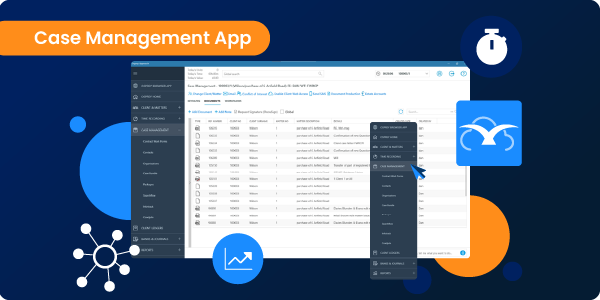 Case Management App – v3.00.0
Our latest update to the Case Management App will help teams work more efficiently and progress cases quicker and easier.
The Case Management App now combines all the features of the Osprey Approach apps into one centralised, powerful platform. You'll now find the time recording, cheque requisitions, supervisor, and various integrations featured within the case management app for an improved experience.
All Osprey focused apps can still be accessed and used, but you'll now have an enhanced experience directly from the Case Management App if you'd prefer to work solely from that app.
In the Case Management App you'll now find:
Time recording
Access all time recording features from within the Case Management App. You can now view the ledger, post time, start a timer, or print bills. For easy access you can also find the time feature at the top of the app.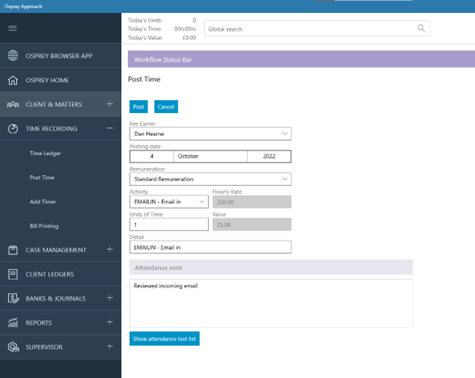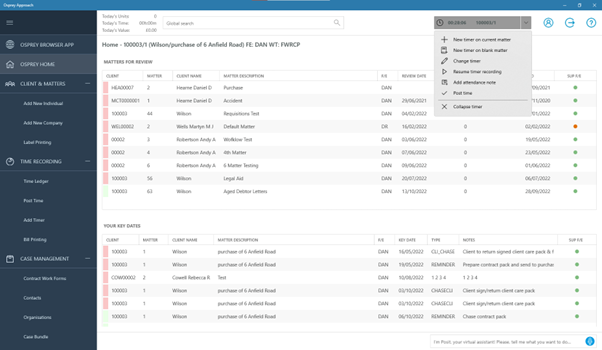 Cheque Requisitions
All features from the Cheque Requisitions App can now be found within the client ledger area of the Case Management App. Easily view pending requisitions and raise new ones.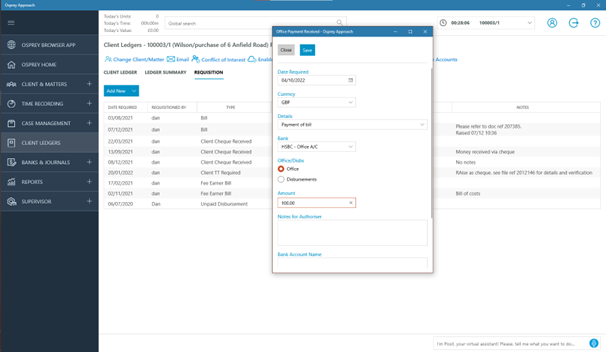 Supervisor
Supervisors can now amend templates for standard documents, bills, aged debtor letters, labels, and cheques directly from the Case Management App. This area will only be visible to users with the default Supervisor Access template.
Additional updates to the Case Management App include:
The case management menu
New additions have been added to the case management menu within the Case Management App.
To help conveyancing teams, the InfoTrack, Searchflow, and Coadjute integration functionality can now accessed here.
You'll also find the case bundle and package features, and contacts and organisations within the drop down menu.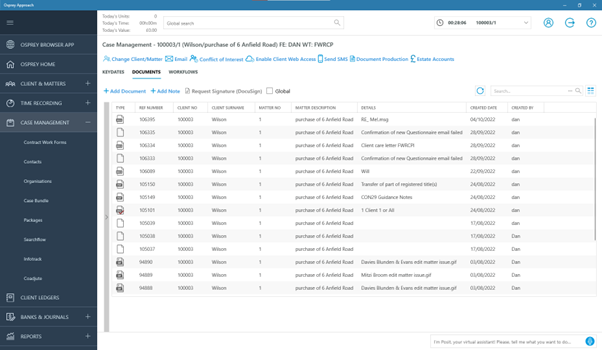 Drag and drop
Upload documents quicker with the updated drag and drop functionality. Simply drag and drop files from your PC directly into the matter history, or individual folders within.
Client search results
View more options, quicker when searching for clients.

For more information & support
If you need more information or support on the new updates, please contact our support team who will be happy to help. Submit a support ticket, or call us on 0330 060 4940.