Accessing your Osprey Training site
Updated Sep 4th, 2023
To help users familiarise themselves with Osprey, all firms are provided with their own training site, complete with dummy data.
This will be a different URL and database to your live site, and any data entered will not be linked to your real site data.
The training site should only be used for training purposes and not for recording active clients.
To ensure Osprey operates effectively, please ensure that your PC has been configured.
Accessing your training site
There are two methods for accessing your firm's training site – via a Web Browser or our dedicated Osprey Desktop App.
Users can be logged into the desktop app and the web app at the same time.
Osprey via a Browser
To use Osprey Web App, open your preferred internet browser (i.e. Chrome/Edge).
Enter your training URL.
This will look similar to https://yourfirmname.ospreyapproach.com/training

This will direct you to the sign in screen, which will ask you to put your training credentials.
Osprey Desktop App
To use the desktop app, launch the app from your PC's start menu.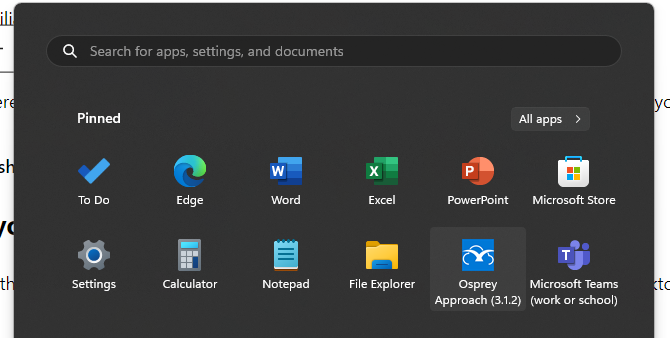 Once opened, enter the URL into the top text field.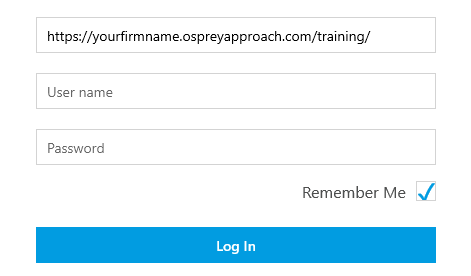 Training Credentials
When using the training site, multiple users can sign in with the training credentials at the same time.
When using the training site, all users will use the Training username. Your firm's training site password will be provided to your system supervisor.