Set up Searchflow Integration
Updated Jan 3rd, 2023
Who is this guide for?
Accounts Supervisors and Case Management Supervisors
Osprey Approach offers integration with SearchFlow, allowing you to run SearchFlow searches. To use these, a Supervisor level user will need to ensure that the integration has been set up.
Please note that you must have an account with SearchFlow to be able to use this function.
Please Note: In order to submit SearchFlow searches through Osprey Approach, you will need your SearchFlow URL, username and password.
Navigate to the Supervisor area of Osprey and select System Setup. Then go to System Settings and click on Third Party Data.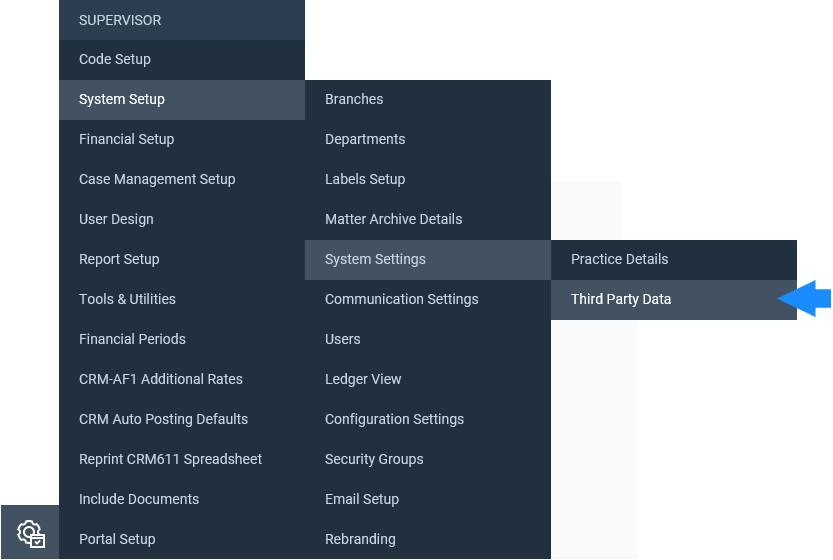 In the Search area in the top right of the screen, type SEARCHFLOW to bring up the following entries.

The two areas available in which to input data are:
SEARCHFLOW_XIF_API
SEARCHFLOW_XIF_NOTICATION
Right click on SEARCHFLOW_XIF_API and select the option to Edit. This will bring up a screen displaying the following options.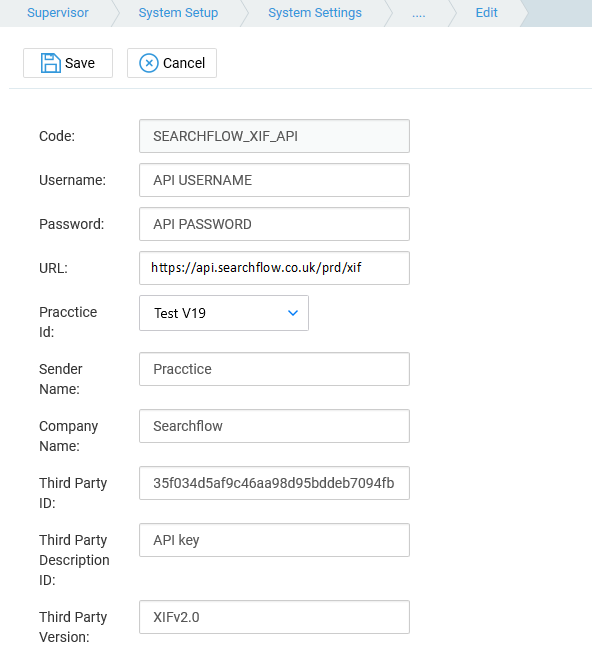 This is the area in which you need to input your username, password and URL.
The username and password will be provided by Searchflow. Your URL will be: https://api.searchflow.co.uk/prd/xif
Once all of the data has been added, select the Save button at the top of the screen.
The area for SEARCHFLOW_XIF_Notification doesn't need a username and password, however it does need a URL to be entered into the appropriate box. This URL is as follows: https://yourcompanyname.ospreyapproach.com/searchflow/services/XIFResponse.ashx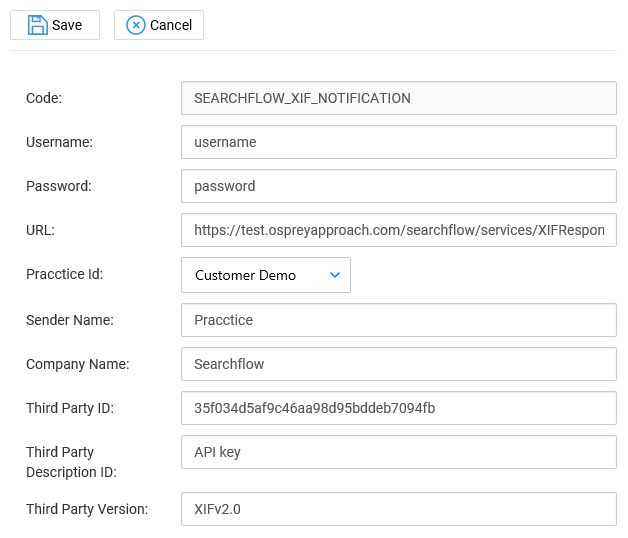 Once you have edited both SEARCHFLOW_XIF_API and SEARCHFLOW_XIF_NOTIFICATION you will then be able to perform Searchflow searches through Osprey.