Reports: Unpaid Bills
Updated Nov 15th, 2021
Who is this guide for?
Accounts Users and Accounts Supervisors
This report lists the bills posted on the Client Ledger Cards which have not been fully allocated against a receipt or credit note, so that all or part of the bill is still outstanding.  This report is grouped and subtotalled by Fee Earner.

Filter Options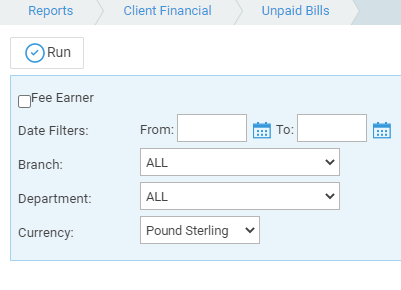 Fee Earner – Select one or more Fee Earner, or leave blank for all
Date Filters – Enter the date range you wish to report on – dates are a required filter
Branch – Report on All branches or select a branch
Department – Report on All departments or select a department
Currency – Select a currency to report
List of Columns produced
Work Type
Private/Legal Aid
Client number
Matter number
Client name
Matter Description
Bill date
Bill Reference
Posting Detail
Bill Value
VAT
Amount Paid
Amount Due